Fully committed to climate protection, Kontakt Chemie is launching a new range of climate friendly products with low Global Warming Potential (GWP). In accordance with the European F-gas regulation, Kontakt Chemie has banned all use of HFC-134a (GWP=1430) in favour of HFO-1234ze (GWP=7). All dusters and freezers are now available with HFO-1234ze.
Advantages of HFO-1234ze:
• Climate friendly: low Global Warming Potential (GWP=7)
• 100% ozone friendly: no impact on the ozone layer
• Safe to use: Non-flammable (according to directive 2058/47/EC)
 Look for the unique "Low GWP" logo!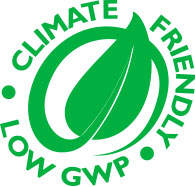 Because of this transition, new product references are put into place. You can find a list with the new references here. For the complete low GWP leaflet, click here.